Ads were removed from the site on 2021-10-17. Updates to the site have commenced after a long hiatus. More to come.
Food Fight
(フードファイト)
Released in 1983
Developer: Atari
Manufacturer: Atari
Distributor: Atari






(3 total votes)

Game Summary
Throw food at evil chefs
Hardware Info
Controls: 1 Joystick / Button(s)
Horizontal-mounted Raster monitor
256 x 224 Resolution
Colors: 256 Color
Additional Hardware Info (from Mame)
68000 cpu @ 6 Mhz
Pokey audio
Pokey audio
Pokey audio
Hardware Platform
Atari 68000 Based
Mame ROMs
foodf, Food Fight
Game Details
Like Berzerk with food! - Reach the Ice Cream cone to end level - Watermelons provide unlimited ammo - peas had a lousy range - Every 5th wave is a Watermelon wave - Cool!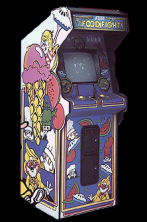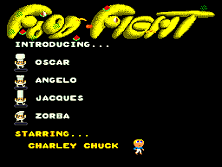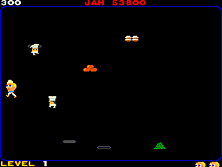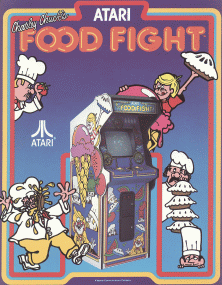 Search the following for Food Fight
This game page was created 8/3/1998 12:00:00 AM and last updated 12/13/2021 6:51:18 AM