Ads were removed from the site on 2021-10-17. Updates to the site have commenced after a long hiatus. More to come.
Karate Champ
Released in 1984
Developer: Data East
Manufacturer: Data East
Distributor: Data East






(4 total votes)

Game Summary
Head to Head Karate, gaming's first complex beat-em-up - beat your opponent senseless
Hardware Info
Controls: 2 Joysticks
Vertical-mounted Raster monitor
224 x 256 Resolution
Colors: 256 Color
Additional Hardware Info (from Mame)
Z80 cpu @ 3 Mhz
Z80 cpu @ 3 Mhz
AY-8910 audio @ 1 Mhz
AY-8910 audio @ 1 Mhz
DAC audio
Hardware Platform
Data East Z80 Based
Mame ROMs
kchamp, Karate Champ (US)
Game Details
First beat-em-up, also the first fighting game to utilize a complex control system.
Karate Champ's players each had two joysticks, by using a reference chart just below the moniter you could make combinations in joystick movement for various moves (i.e. up with left and right the right joystick would make a jumping head kick). Karate Champ was well ahead of its time.
Next to the more simplistic fun other machines had to offer in the early-mid eighties arcade scene, it became a footnote instead of the innovator Street Fighter's similiar gamplay would in time become.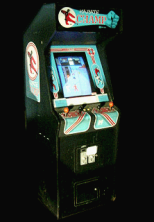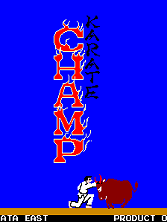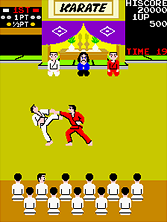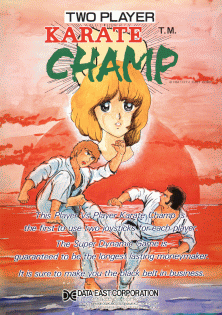 Search the following for Karate Champ
This game page was created 8/3/1998 12:00:00 AM and last updated 12/13/2021 6:38:28 AM