Ads were removed from the site on 2021-10-17. Updates to the site have commenced after a long hiatus. More to come.
Rip Off
(リップオフ)
Released in 1979
Developer: Cinematronics
Manufacturer: Cinematronics
Distributor: Cinematronics






(2 total votes)

Game Summary
A cooperative two-player game in which you and your teammate try to protect fuel pods from the enemy tanks.
Hardware Info
Controls: Buttons
Horizontal-mounted Vector monitor
0 x 0 Resolution
Colors: 256 B/W
Additional Hardware Info (from Mame)
CCPU cpu @ 5 Mhz
* Samples audio
* Information was extracted from Mame, so "Samples audio" may indicate the game has analog sound hardware.
Mame ROMs
ripoff, Rip Off
Game Details
An ingeniously designed vector graphics game in which you work in tandem with another player to try to prevent enemy tanks from stealing fuel pods located in the center of the screen. The enemy tanks can fire on you and you can fire back. You can also destroy the enemy by colliding into them with your tank, but this will temporarily remove you from the game. When one wave of tanks has been wiped out, a new faster and more difficult wave will appear.
The game ends when all of the fuel pods have been stolen.
This game can be played alone, but it is very challenging. With two players there is a terrific cooperative element to the game play. One player can guard the pods while the other shoots the enemy.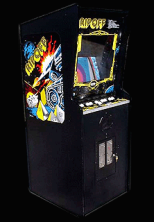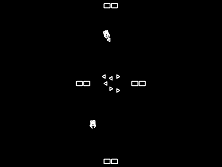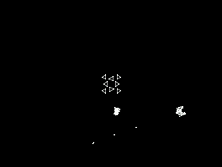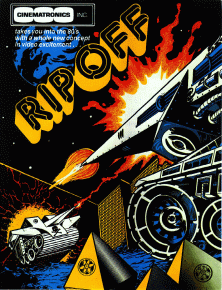 Search the following for Rip Off
This game page was created 8/3/1998 12:00:00 AM and last updated 2/12/2003 1:55:48 PM