Ads were removed from the site on 2021-10-17. Updates to the site have commenced after a long hiatus. More to come.
Tazz-mania
Released in 1982
Developer: Stern
Manufacturer: Stern
Distributor: Stern




(1 total votes)

Game Summary
Survive rooms of creatures
Additional Hardware Info (from Mame)
Z80 cpu @ 3 Mhz
Z80 cpu @ 1 Mhz
AY-8910 audio @ 1 Mhz
AY-8910 audio @ 1 Mhz
Hardware Platform
Konami Scramble hardware
Mame ROMs
tazmania, Tazz-Mania (Scramble hardware)
tazmani2, Tazz-Mania (Strategy X hardware)
Game Details
Cross between Robotron and Berzerk - Blast your way out of rooms before the side walls close in - freakish enemies for each new room - fast firing that bounced off walls Had a bug that would allow you to stay by the side walls and duck out after walls squished all the bad guys. Upon reaching 1,000,000 points, everything that you shot would add an extra man. You could play this game FOREVER on one quarter.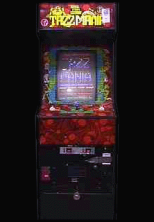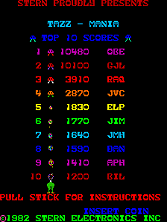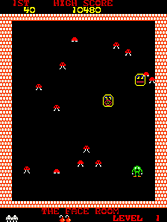 Search the following for Tazz-mania
This game page was created 8/3/1998 12:00:00 AM and last updated 12/13/2021 6:38:28 AM