Ads were removed from the site on 2021-10-17. Updates to the site have commenced after a long hiatus. More to come.
Alcon
Released in 1986
Developer: Toaplan
Manufacturer: Taito
Distributor: Taito






(1 total votes)

Game Summary
Another Xevious-like shooter. Released as Slap Fight outside of the US.
Hardware Info
Controls: 1 Joystick / Button(s)
Vertical-mounted Raster monitor
240 x 280 Resolution
Colors: 256 Color
Additional Hardware Info (from Mame)
Z80 cpu @ 6 Mhz
Z80 cpu @ 6 Mhz
AY-8910 audio @ 1 Mhz
AY-8910 audio @ 1 Mhz
Hardware Platform
Toaplan Slapfight
Mame ROMs
alcon, Alcon
Game Details
A vertical top-down upwards scrolling spaceship shoot'em-up game with a gradius-like pick-up system (you pick up tokens that yield various upgrades to your ship that you may choose, speed costs one token, shot costs 2, side-shot cost 3 etc.) The game is very intense even if the enemies are rather simple in design. Toaplan made a game in 1993 called V-5 which plays much like Slap Fight (Alcon).
Published for the Commodore 64 (USA) by Taito.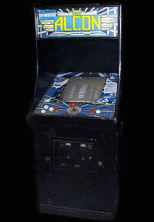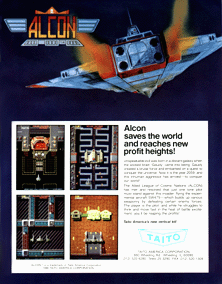 Search the following for Alcon
This game page was created 8/3/1998 12:00:00 AM and last updated 12/13/2021 6:38:28 AM