Ads were removed from the site on 2021-10-17. Updates to the site have commenced after a long hiatus. More to come.
Defend The Terra Attack On The Red UFO
(レッドUFO)
Released in 1979




(1 total votes)
Game Summary
Weird Galaxian hack involving a gaint Red UFO.
Additional Hardware Info (from Mame)
Z80 cpu @ 3 Mhz
Custom audio
Hardware Platform
Galaxian hardware
Mame ROMs
redufo, Defend the Terra Attack on the Red UFO
Game Details
Shoot the drone ships that surround the giant Red UFO. Somewhat interesting, though ultimately boring, Galaxian derivitive. No date in ROM, so the release date is unknown.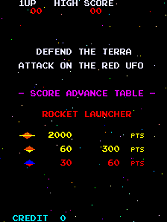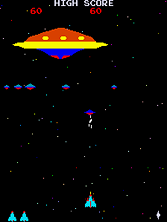 Search the following for Defend The Terra Attack On The Red UFO
This game page was created 8/3/1998 12:00:00 AM and last updated 12/12/2021 12:02:12 AM