Ads were removed from the site on 2021-10-17. Updates to the site have commenced after a long hiatus. More to come.
Parodius
(パロディウスだ!)
Released in 1990
Developer: Konami
Manufacturer: Konami
Distributor: Konami





(1 total votes)
Game Summary
A horizontal shooter. Full name: Parodius! From Myth to Laughter (Parodius Da! Shinwa kara Owarai e)
Additional Hardware Info (from Mame)
KONAMI cpu @ 3 Mhz
Z80 cpu @ 3 Mhz
YM-2151 audio @ 3 Mhz
053260 audio @ 3 Mhz
Hardware Platform
Konami TMNT2 Based
Mame ROMs
parodius, Parodius DA! (Japan)
Game Details
Parodius is a comical, horizontal shooter much like Konami's Gradius. In fact that's how the game got its name. Parodius is a parody of Gradius. This game is very fun and colorful, while containing all the elements vital to a great shooter. Neat weapons and power-ups, wacky bosses, and funky music puts Parodius in a league of its own.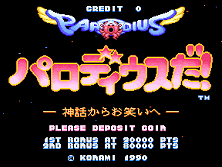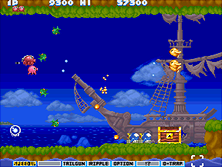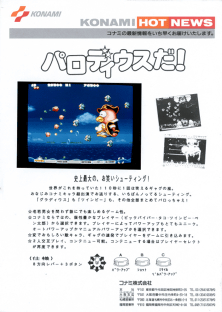 Search the following for Parodius
This game page was created 8/3/1998 12:00:00 AM and last updated 12/13/2021 6:38:28 AM