Ads were removed from the site on 2021-10-17. Updates to the site have commenced after a long hiatus. More to come.
Forgotten Worlds
(ロストワールド)
Released in 1988
Developer: Capcom
Manufacturer: Capcom
Distributor: Capcom






(3 total votes)

Game Summary
Multi-directional scrolling shooter
Hardware Info
Controls: Joystick / Knob / Button(s)
Horizontal-mounted Raster monitor
384 x 224 Resolution
Colors: 2048 Color
Additional Hardware Info (from Mame)
68000 cpu @ 8 Mhz
Z80 cpu @ 4 Mhz
YM-2151 audio @ 3 Mhz
OKI6295 audio
Hardware Platform
CPS
Mame ROMs
forgottn, Forgotten Worlds (US)
lostwrld, Lost Worlds (Japan)
Game Details
1 or 2-player co-op - fly jetpack/weapon-wielding heroes around scrolling landscape. Blast tons of monsters and big bosses in a variety of themed worlds (Orient, Egypt, futuristic, etc.) Controlled by joystick and rotary knob - shoot one way, fly the other. Excellent graphics for the time. Pick up zenny (money) to buy armor and super weapons at shops.
(Dan Wasson spent a lot of time as a 12-year old to win this one. His email address is dwasson@ea.com and he wants mail if you know anything about this game or where he can find one.)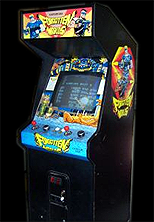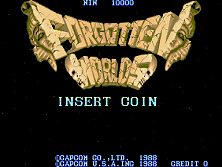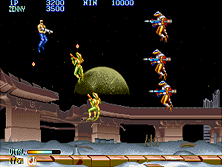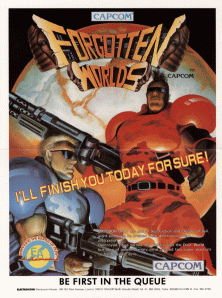 Search the following for Forgotten Worlds
This game page was created 8/3/1998 12:00:00 AM and last updated 12/13/2021 6:38:28 AM