Ads were removed from the site on 2021-10-17. Updates to the site have commenced after a long hiatus. More to come.
New Zealand Story, The
Released in 1990
Developer: Taito
Manufacturer: Taito
Distributor: Taito






(1 total votes)
Game Summary
Basic horizontal platform game - help a little kiwi save his friends from an evil walrus who intends to have them for dinner.
Additional Hardware Info (from Mame)
Z80 cpu @ 6 Mhz
Z80 cpu @ 6 Mhz
YM-2203 audio @ 3 Mhz
Hardware Platform
Taito The Newzealand Story
Mame ROMs
tnzs, The Newzealand Story (Japan)
tnzs2, The Newzealand Story 2 (World)
tnzsb, The Newzealand Story (World, bootleg)
Game Details
An evil leopard seal has kidnapped Tiki the Kiwi's friends, including your girlfriend, Phee-Phee, and intends to sell them on the black market. You have to comb through New Zealand in an effort to get them back. Tiki has a bow-and-arrow that he can use to slay enemies. He can also ride balloons and acquire different weapons as the game progresses.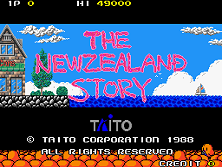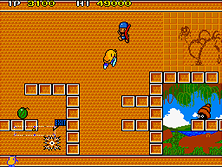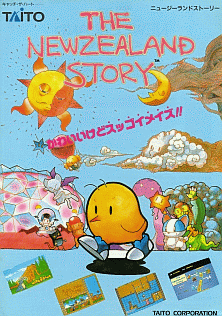 Search the following for New Zealand Story, The
This game page was created 8/3/1998 12:00:00 AM and last updated 3/26/2002 2:05:26 PM