Ads were removed from the site on 2021-10-17. Updates to the site have commenced after a long hiatus. More to come.
Battlezone
(バトルゾーン)
Released in 1980
Developer: Atari
Manufacturer: Atari
Distributor: Atari





(1 total votes)

Game Summary
Tank combat - destroy tanks, missiles & saucers. Sometimes written "Battle Zone"
Hardware Info
Controls: 2 Joysticks
Horizontal-mounted Vector monitor
0 x 0 Resolution
Colors: 256 Monochrome
Additional Hardware Info (from Mame)
M6502 cpu @ 1 Mhz
Pokey audio @ 1 Mhz
* Samples audio
* Information was extracted from Mame, so "Samples audio" may indicate the game has analog sound hardware.
Hardware Platform
Atari 6502 Vector
Mame ROMs
bzone, Battle Zone (set 1)
bzone2, Battle Zone (set 2)
Game Details
First "first person" simulator marketed - green vector graphics. twin joysticks for left & right tracks.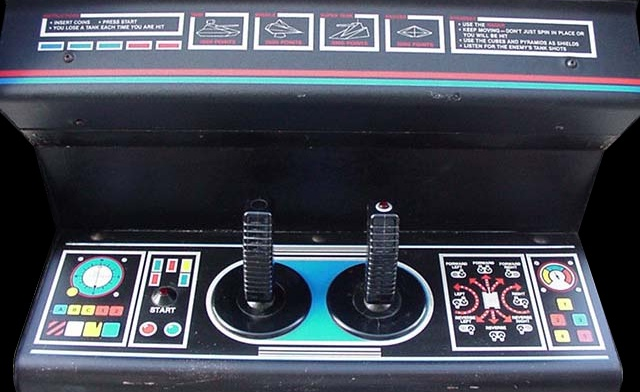 Search the following for Battlezone
This game page was created 8/3/1998 12:00:00 AM and last updated 12/13/2021 6:38:28 AM