Features
Repair guides for restoring the classics.
This interview with Mike Albaugh began when he sent us a flame about selling our soul to Microsoft. Turns out we were experiencing a server issue, and he was using Nutchafe 4.72 and it was crashing on him (he claims) unless he turned off scripting, and there's no script on our error page, but hey, that's why Nutscrape is a popup banner for AOL now.
Mike Albaugh worked on Atari Football, and recounts his experience.
A bit of history. Sadly this museum is no longer, but this documentation is being preserved online.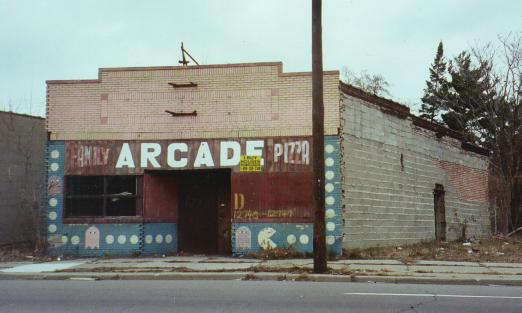 Photo by John Sugg 2002. [Note: this is NOT the museum mentioned above]
This interview began as a result of Warren Davis surfing the web and finding a fan's Q*bert page in the summer of 1995. That fall, emails flew back and forth and the story of Q*bert emerged. The original posting was a quiet affair, although it did inspire Jeff Lee, the artist who drew Q*bert and his friends, to post his own history.
Warren was new to Gottlieb in 1982 and had "learned the ropes" by helping one of the programmers with his game. He was looking for a game of his own to do when he saw that another programmer, Kan Yabumoto (who would later do Mad Planets), had filled a screen with hexagons that consisted of 3 differently colored diamonds. If you chose the colors right, each hexagon seemed to be a 3-dimensional cube...
Here's a sketch of the evolution of a video game collector. No one collector in particular; this is just a collage of collectors we've known over the years. There are some anecdotes in here from our own experience, as well as from those of people we've known both on and off the 'net.
This guy one time contacted me and asked me to give him information on Pac-Man sound. I generated this tool to show the waveforms read directly from the ROMs.