Ads were removed from the site on 2021-10-17. Updates to the site have commenced after a long hiatus. More to come.
Gorf
(ゴーフ)
Released in 1981
Developer: Bally / Midway
Manufacturer: Bally / Midway
Distributor: Bally / Midway






(3 total votes)

Game Summary
Space - defeat the Gorfian Armada over 5 different missions
Hardware Info
Controls: 1 Joystick / Button(s)
Vertical-mounted Raster monitor
204 x 320 Resolution
Colors: 256 Color
Additional Hardware Info (from Mame)
Z80 cpu @ 1 Mhz
Astrocade audio @ 1 Mhz
Astrocade audio @ 1 Mhz
* Samples audio
Custom audio
* Information was extracted from Mame, so "Samples audio" may indicate the game has analog sound hardware.
Hardware Platform
Bally Midway Astrocade hardware
Mame ROMs
gorf, Gorf
gorfpgm1, Gorf (Program 1)
Game Details
Gorf has almost classic status, and it became legendary for its almost unintelligible speech. The game itself was split into five distinct missions. The first was a copy of Space Invaders. The second had 2 laser cannons, with galaxian style escorts. The third was Galaxians. The fourth, Space Warp, had spaceships and Gorfian robots spiralling out from a black hole in the top half of the screen. The fifth had a large flagship at the top of the screen, moving from side to side and dropping bombs. The player had to shoot through the ship's hull and hit the flagship's reactor to complete the round and advance to the next rank. Gorf featured a contoured multi-directional control stick with a trigger style fire button, and the player could move freely in the bottom third of the screen. Bally obviously had high hopes for this game and produced such promotional items as a T-shirt and a players guide.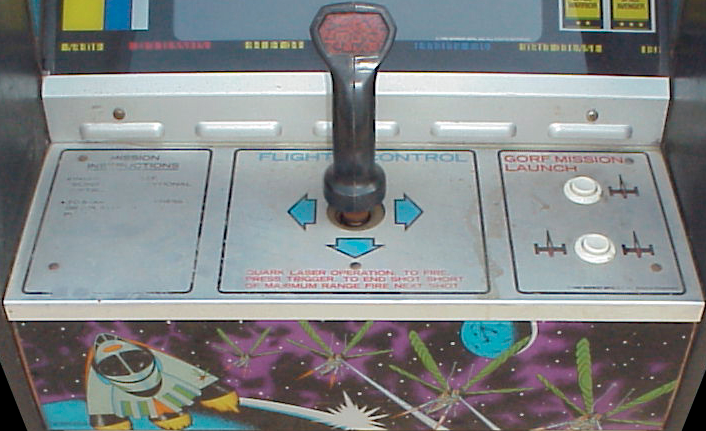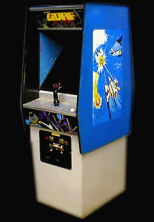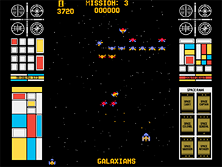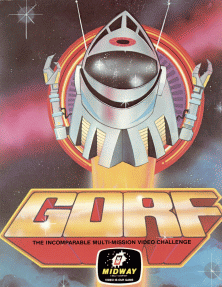 Search the following for Gorf
This game page was created 8/3/1998 12:00:00 AM and last updated 6/22/2000 4:28:19 PM