Ads were removed from the site on 2021-10-17. Updates to the site have commenced after a long hiatus. More to come.
Joust II - Survival of the Fittest
(ジャウスト2)
Released in 1986
Developer: Williams
Manufacturer: Williams
Distributor: Williams





(3 total votes)

Game Summary
Follow up to Joust, quite rare.
Additional Hardware Info (from Mame)
M6809 cpu @ 1 Mhz
M6808 cpu
M6809 cpu @ 4 Mhz
DAC audio
YM-2151 audio @ 3 Mhz
HC55516 audio
Mame ROMs
joust2, Joust 2 - Survival of the Fittest (set 1)
Game Details
Joust with one major change: You can turn the ostrich into a pegasus.
Levels are more varied, and the backgrounds have detail!
Published for PC, PlayStation by Midway in Arcade's Greatest Hits: Midway Collection 2.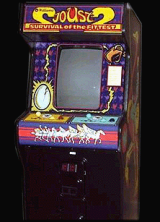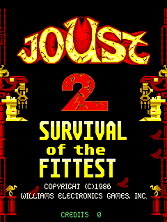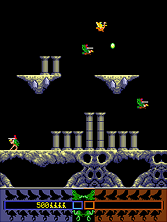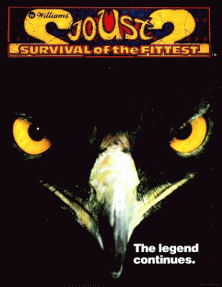 Search the following for Joust II - Survival of the Fittest
This game page was created 8/3/1998 12:00:00 AM and last updated 11/3/1999 9:46:28 AM