Ads were removed from the site on 2021-10-17. Updates to the site have commenced after a long hiatus. More to come.
Mikie
(新入社員とおる君)
Released in 1984
Developer: Konami
Manufacturer: Konami
Distributor: Konami






(1 total votes)

Game Summary
School days.
Hardware Info
Controls: 1 Joystick / Button(s)
Vertical-mounted Raster monitor
224 x 256 Resolution
Colors: 256 Color
Additional Hardware Info (from Mame)
M6809 cpu @ 1 Mhz
Z80 cpu @ 3 Mhz
SN76496 audio @ 1 Mhz
SN76496 audio @ 1 Mhz
Hardware Platform
Konami 6809 Based
Mame ROMs
mikie, Mikie
mikiehs, Mikie (High School Graffiti)
mikiej, Shinnyuushain Tooru-kun
Game Details
Guide Mikie through High-school - scenes in classroom, locker room, canteen and Gym - throw pies at cook, push kids off chairs etc.- "bustle about to the American pop beat"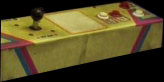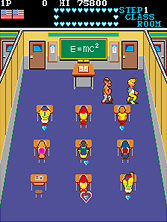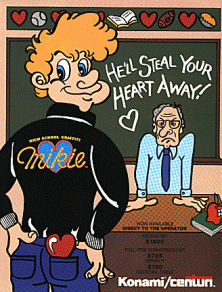 Search the following for Mikie
This game page was created 8/3/1998 12:00:00 AM and last updated 12/13/2021 7:08:31 AM