Ads were removed from the site on 2021-10-17. Updates to the site have commenced after a long hiatus. More to come.
Moon Patrol
(ムーンパトロール)
Released in 1982
Developer: Williams
Manufacturer: Williams
Distributor: Williams





(3 total votes)

Game Summary
Space - drive moonbuggy over surface
Hardware Info
Controls: 1 Joystick / Button(s)
Horizontal-mounted Raster monitor
240 x 248 Resolution
Colors: 192 Color
Additional Hardware Info (from Mame)
Z80 cpu @ 3 Mhz
M6803 cpu @ 1 Mhz
AY-8910 audio
AY-8910 audio
MSM5205 audio
MSM5205 audio
Hardware Platform
Irem M52
Mame ROMs
mpatrol, Moon Patrol
mpatrolw, Moon Patrol (Williams)
mranger, Moon Ranger
Game Details
Licensed from Irem - you can shoot vertically and in front of your buggy - jump over craters, boulders, mines etc.
Published for Atari 2600, 5200, 400/800/XL/XE (USA) by Atari.
Published for Commodore 64 (USA) by Atarisoft.
Published for PC, PlayStation (USA) by Midway in Arcade's Greatest Hits: Midway Collection 2.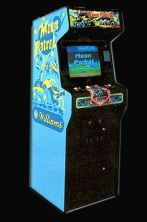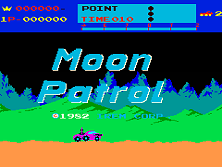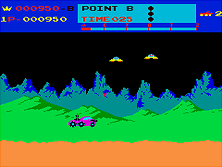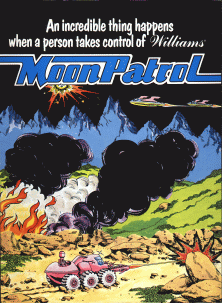 Search the following for Moon Patrol
This game page was created 8/3/1998 12:00:00 AM and last updated 6/26/2000 4:36:12 PM