Ads were removed from the site on 2021-10-17. Updates to the site have commenced after a long hiatus. More to come.
Mr. Do!
(ミスタードゥ)
Released in 1982
Developer: Universal
Manufacturer: Universal
Distributor: Universal






(3 total votes)

Game Summary
Mining - dig for cherries and kill monsters
Hardware Info
Controls: 1 Joystick / Button(s)
Vertical-mounted Raster monitor
192 x 240 Resolution
Colors: 257 Color
Additional Hardware Info (from Mame)
Z80 cpu @ 4 Mhz
SN76496 audio @ 4 Mhz
SN76496 audio @ 4 Mhz
Mame ROMs
mrdo, Mr. Do! (Universal)
mrdofix, Mr. Do! (bugfixed)
mrdot, Mr. Do! (Taito)
mrdoy, Mr. Do! (Yukidaruma)
mrdu, Mr. Du!
mrlo, Mr. Lo!
yankeedo, Yankee DO!
Game Details
Monsters could be killed with powerball or falling apples. - more playable than dig-dug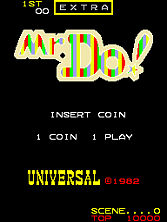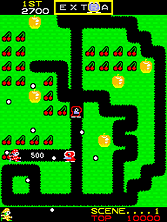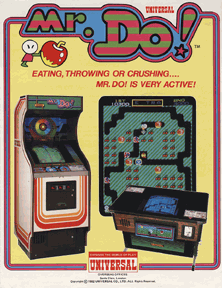 Search the following for Mr. Do!
This game page was created 8/3/1998 12:00:00 AM and last updated 1/27/2000 12:31:25 AM