Ads were removed from the site on 2021-10-17. Updates to the site have commenced after a long hiatus. More to come.
Pac-Mania
Released in 1988
Developer: Atari
Manufacturer: Atari
Distributor: Atari

(0 total votes)

Game Summary
Gobble the dots.
Additional Hardware Info (from Mame)
M6809 cpu @ 1 Mhz
M6809 cpu @ 1 Mhz
M6809 cpu @ 1 Mhz
HD63701 cpu @ 1 Mhz
YM-2151 audio @ 3 Mhz
Namco audio
DAC audio
DAC audio
Hardware Platform
Namco System 1
Mame ROMs
pacmania, Pacmania
pacmanij, Pacmania (Japan)
Game Details
Pac-Man can now jump over pursuing ghosts - maze is drawn in extremely forced 3D with prettier graphics. When the ghosts are blue, you can attack them. The highest score for 1 ghost is 7650 points. You lose 1 life if you are hit by the ghosts. When your score reaches 50,000 points, you get a 1-up.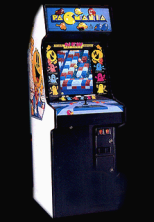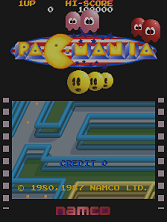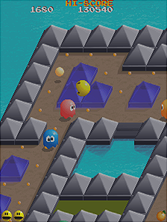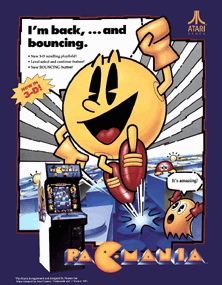 Search the following for Pac-Mania
This game page was created 8/3/1998 12:00:00 AM and last updated 3/26/2002 8:59:33 PM