Black Tiger
(ブラックドラゴン)
Released in 1987
Developer: Romstar
Manufacturer: Romstar
Distributor: Romstar

(0 total votes)

Game Summary
Scrolling fighter with great music and great medieval monsters. U.S. version of Black Dragon.
Hardware Info
Controls: 1 Joystick / Button(s)
Horizontal-mounted Raster monitor
256 x 224 Resolution
Colors: 1024 Color
Additional Hardware Info (from Mame)
Z80 cpu @ 4 Mhz
Z80 cpu @ 3 Mhz
YM-2203 audio @ 3 Mhz
YM-2203 audio @ 3 Mhz
Mame ROMs
blktiger, Black Tiger
bktigerb, Black Tiger (bootleg)
blkdrgnb, Black Dragon (bootleg)
blkdrgon, Black Dragon
Game Details
Warrior fights with throwing daggers and a mace. Capcom's Magic Sword is the sequel to this game.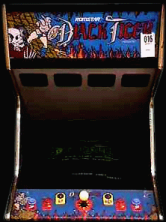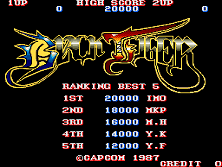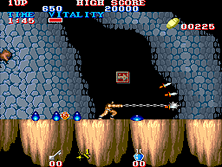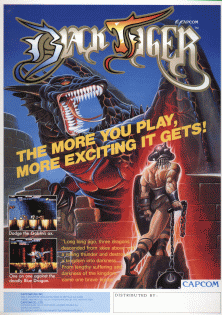 Search the following for Black Tiger
This game page was created 8/3/98 12:00:00 AM and last updated 3/7/00 10:32:23 PM