Ads were removed from the site on 2021-10-17. Updates to the site have commenced after a long hiatus. More to come.
Boot Hill
(ブートヒル)
Released in 1977
Developer: Midway
Manufacturer: Midway
Distributor: Midway





(2 total votes)

Game Summary
An old yellow-screen gunfight.
Hardware Info
Controls: Gun
Horizontal-mounted Raster monitor
256 x 224 Resolution
Colors: 7 Monochrome
Additional Hardware Info (from Mame)
8080 cpu @ 2 Mhz
* Samples audio
* Information was extracted from Mame, so "Samples audio" may indicate the game has analog sound hardware.
Hardware Platform
Midway 8080
Mame ROMs
boothill, Boot Hill
Game Details
Controls consisted of pistol grips with triggers. Each player controlls a gunfighter on either side of the screen.
Movement was restricted to up or down. Players had a limited amount of ammo they could fire while dodging each other's bullets and hiding behind wagons and cactuses.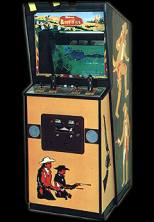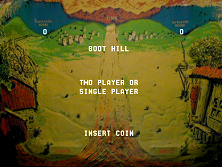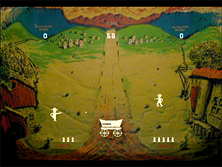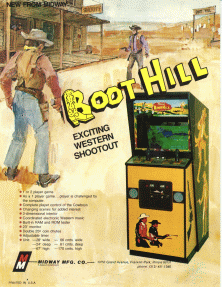 Search the following for Boot Hill
This game page was created 8/3/1998 12:00:00 AM and last updated 12/13/2021 7:11:00 AM