Ads were removed from the site on 2021-10-17. Updates to the site have commenced after a long hiatus. More to come.
Choplifter
(チョップリフター)
Released in 1985
Developer: Sega
Manufacturer: Sega
Distributor: Sega





(1 total votes)

Game Summary
Fly rescue sorties to bust POW's out of camps.
Hardware Info
Controls: 1 Joystick / Button(s)
Horizontal-mounted Raster monitor
256 x 224 Resolution
Colors: 2048 Color
Additional Hardware Info (from Mame)
Z80 cpu @ 4 Mhz
Z80 cpu @ 4 Mhz
SN76496 audio @ 2 Mhz
SN76496 audio @ 2 Mhz
Hardware Platform
Sega System 1
Mame ROMs
chplft, Choplifter
chplftb, Choplifter (alternate)
chplftbl, Choplifter (bootleg)
Game Details
Try to shoot down oncoming aircraft, and watch out for AAA's on the ground.. Shoot the buildings containing the POW's and they all run out. Try and land whilst under fire, load some up and return to base, repeat until certain number of POW's have been saved.. POW's are not immune to friendly fire so watch where you shoot!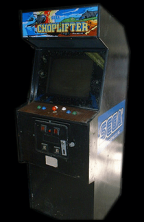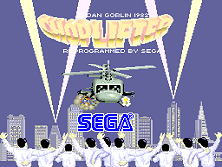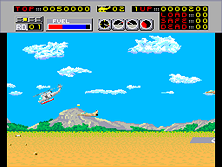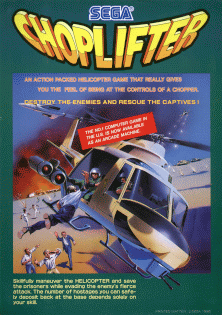 Search the following for Choplifter
This game page was created 8/3/1998 12:00:00 AM and last updated 12/13/2021 7:12:25 AM