Ads were removed from the site on 2021-10-17. Updates to the site have commenced after a long hiatus. More to come.
Domino Man
(ドミノマン)
Released in 1982
Developer: Bally / Midway
Manufacturer: Bally / Midway
Distributor: Bally / Midway

(0 total votes)

Game Summary
Set up a row of dominoes before the other characters in the game knock them over.
Hardware Info
Controls: 1 Joystick / Button(s)
Horizontal-mounted Raster monitor
512 x 480 Resolution
Colors: 64 Color
Additional Hardware Info (from Mame)
Z80 cpu @ 2 Mhz
Z80 cpu @ 2 Mhz
AY-8910 audio @ 2 Mhz
AY-8910 audio @ 2 Mhz
Hardware Platform
Bally Midway MCR-2
Mame ROMs
domino, Domino Man
Game Details
Each screen in this game was a different location: a city street, a golf course, a construction site, etc. You had to set up a row of dominoes while watching out for a bee that chased you (slowly) and the people in the scene who would knock over the dominoes if they hit them. Each scene had different characters: a woman with shopping bags, a golfer, a construction worker, etc.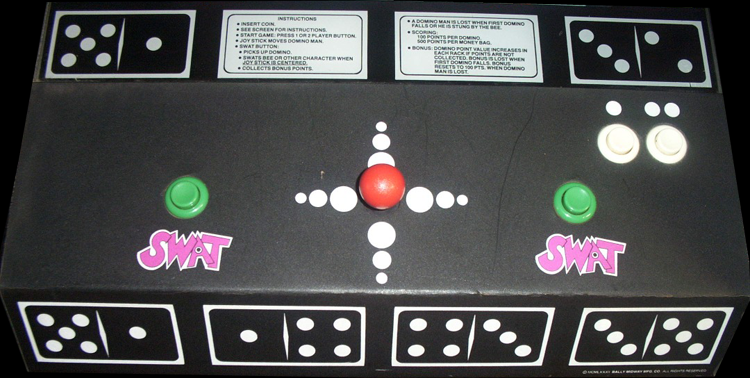 Search the following for Domino Man
This game page was created 8/3/1998 12:00:00 AM and last updated 12/13/2021 7:09:34 AM