Ads were removed from the site on 2021-10-17. Updates to the site have commenced after a long hiatus. More to come.
Iron Horse
(大列車強盗)
Released in 1986
Developer: Konami
Manufacturer: Konami
Distributor: Konami






(1 total votes)

Game Summary
Side scrolling platform cowboy train-robber fighter game.
Hardware Info
Controls: 1 Joystick / Button(s)
Horizontal-mounted Raster monitor
240 x 224 Resolution
Colors: 256 Color
Additional Hardware Info (from Mame)
M6809 cpu @ 3 Mhz
Z80 cpu @ 3 Mhz
YM-2203 audio @ 3 Mhz
Hardware Platform
Konami Double Dribble Based
Mame ROMs
ironhors, Iron Horse
farwest, Far West
Game Details
Select between fists, pistols or a whip and then work your way down the steam train killing the bad guys and collecting money and special weapons. Cowboy music score.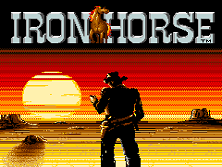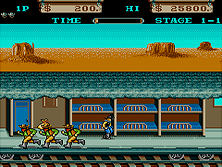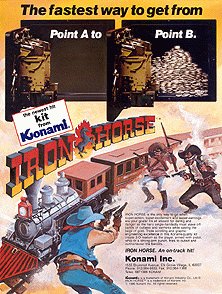 Search the following for Iron Horse
This game page was created 8/3/1998 12:00:00 AM and last updated 12/13/2021 7:08:31 AM