Ads were removed from the site on 2021-10-17. Updates to the site have commenced after a long hiatus. More to come.
Jungle King
(ジャングルキング)
Released in 1982
Developer: Taito
Manufacturer: Taito
Distributor: Taito

(0 total votes)

Game Summary
Loincloth wearing character races to save girlfriend. Original version of Jungle Hunt.
Hardware Info
Controls: 1 Joystick / Button(s)
Horizontal-mounted Raster monitor
256 x 224 Resolution
Colors: 64 Color
Additional Hardware Info (from Mame)
Z80 cpu @ 4 Mhz
Z80 cpu @ 3 Mhz
AY-8910 audio @ 1 Mhz
AY-8910 audio @ 1 Mhz
AY-8910 audio @ 1 Mhz
AY-8910 audio @ 1 Mhz
DAC audio
Hardware Platform
Taito SJ System
Mame ROMs
junglek, Jungle King (Japan?)
jungleh, Jungle Hunt (US)
Game Details
Loincloth wearing character swings through trees (avoiding monkeys hanging on vines), swims through a crocodile-infested river, dodging falling rocks, to jump past the witch doctors holding the maiden.
Reportedly changed to Jungle Hunt due to legal issues involving the estate of Edgar Rice Burroughs (writer of Tarzan).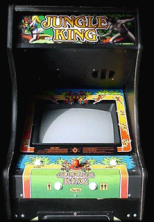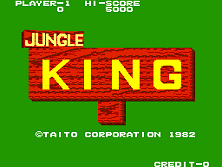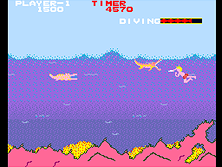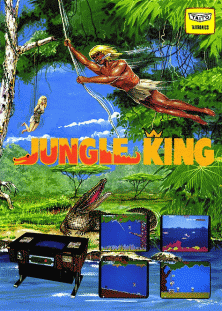 Search the following for Jungle King
This game page was created 8/3/1998 12:00:00 AM and last updated 6/23/2000 11:06:25 AM