Ads were removed from the site on 2021-10-17. Updates to the site have commenced after a long hiatus. More to come.
Legendary Wings
(アレスの翼)
Released in 1986
Developer: Capcom
Manufacturer: Capcom
Distributor: Capcom






(1 total votes)

Game Summary
Two Player game similar to Xevious. Unique combination of vertical scroller (main game) and side scroller (underground sequences).
Hardware Info
Controls: 1 Joystick / Button(s)
Vertical-mounted Raster monitor
240 x 256 Resolution
Colors: 1024 Color
Additional Hardware Info (from Mame)
Z80 cpu @ 4 Mhz
Z80 cpu @ 3 Mhz
YM-2203 audio @ 1 Mhz
YM-2203 audio @ 1 Mhz
Hardware Platform
Capcom Section Z
Mame ROMs
lwings, Legendary Wings (US set 1)
lwings2, Legendary Wings (US set 2)
lwingsjp, Ales no Tsubasa (Japan)
Game Details
No info.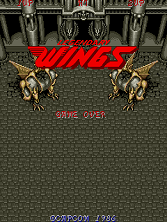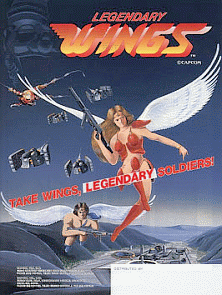 Search the following for Legendary Wings
This game page was created 8/3/1998 12:00:00 AM and last updated 12/13/2021 6:38:28 AM