Mat Mania
(マットマニア)
Released in 1985
Developer: Taito
Manufacturer: Taito
Distributor: Taito

(0 total votes)

Game Summary
Wrestling game. Is it Taito or Technos?
Hardware Info
Controls: 1 Joystick / Button(s)
Vertical-mounted Raster monitor
240 x 256 Resolution
Colors: 80 Color
Additional Hardware Info (from Mame)
M6502 cpu @ 1 Mhz
M6502 cpu @ 1 Mhz
AY-8910 audio @ 1 Mhz
AY-8910 audio @ 1 Mhz
DAC audio
Mame ROMs
matmania, Mat Mania
excthour, Exciting Hour
Game Details
Colorful wrestling game; viewpoint is from outside the ring. Sequel is "Mania Challenge"; both games were combined into one for a home release as "Mat Mania Challenge" by Atari for the Atari 7800.
Face 4 different wrestlers (Insane Warrior, Karate Fighter, Koko Savage (the toughest) and The Pirania (yup, that's how they spell it) on the way to the Title Bout with Golden Hulk.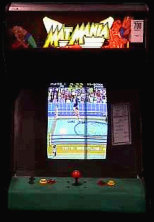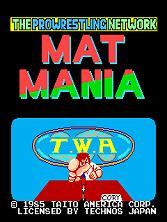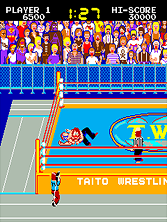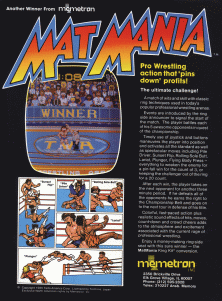 Search the following for Mat Mania
This game page was created 8/3/98 12:00:00 AM and last updated 2/6/00 9:51:14 AM