Ads were removed from the site on 2021-10-17. Updates to the site have commenced after a long hiatus. More to come.
Mysterious Stones
(ミステリアスストーン)
Released in 1984
Developer: Technos
Manufacturer: Technos
Distributor: Technos

(0 total votes)
Game Summary
Exploration game - travel to the Andes, Easter Island and Egypt to find treasure.
Hardware Info
Controls: 1 Joystick / Button(s)
Vertical-mounted Raster monitor
240 x 256 Resolution
Colors: 56 Color
Additional Hardware Info (from Mame)
M6502 cpu @ 1 Mhz
AY-8910 audio @ 1 Mhz
AY-8910 audio @ 1 Mhz
Hardware Platform
Data East Burger Time hardware
Mame ROMs
mystston, Mysterious Stones
Game Details
Game consists of 3 areas - Andes, Easter Island and Egypt. The player must explore the rooms of a dungeon. Inside the dungeon are lots of eggs which the player must crack by kicking. Most of them contain items worth 10-15,000 pts and some contain special items like one to crack all eggs, a 'helper', a grim reaper, an angel (invincibility) and the ever important "key ghost" which you must shoot to get the key to the next room.
Player must find treasure room and bring back a treasure. Then get out of the dungeon and make it to your plane safely before time runs out. You are then taken to New York or Hong Kong to get your treasure checked and score bonus points.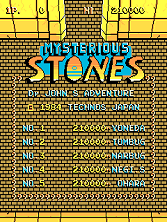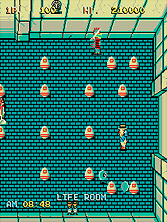 Search the following for Mysterious Stones
This game page was created 8/3/1998 12:00:00 AM and last updated 12/13/2021 6:38:28 AM