Ads were removed from the site on 2021-10-17. Updates to the site have commenced after a long hiatus. More to come.
Pop Flamer
(ポップフレーマー)
Released in 1982
Developer: Jaleco
Manufacturer: Jaleco
Distributor: Jaleco

(0 total votes)

Game Summary
Pop Flamer - a mouse with a flame-thrower flames anything that moves and is not a balloon. Pop all the balloons on each level to move to the next.
Hardware Info
Controls: 1 Joystick / Button(s)
Vertical-mounted Raster monitor
224 x 288 Resolution
Colors: 256 Color
Additional Hardware Info (from Mame)
Z80 cpu @ 1 Mhz
Custom audio
Hardware Platform
Phoenix hardware
Mame ROMs
popflame, Pop Flamer (set 1)
popflama, Pop Flamer (set 2)
Game Details
Stern licensed Pop Flamer from Jaleco.
From the Stern sales flyer, this is more than likely the same information that was on the instruction card:
Operate POP FLAMER with lever to crush ballons avoiding or burning up monsters.
Be careful! If hit by electro-shock wave emmited by HARADON, POP FLAMER will be paralyzed for a while.
Flaming distance comes to be shorter gradually. Replenish fuel supply by crushing balloons.
Throw flame to exterminate frogs if blocked by them.
Get POWER DRINK to change to SUPER MOUSE and swallow monsters nearby.
POP FLAMER disappears if touched by monsters.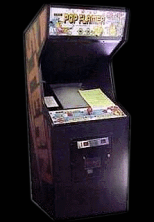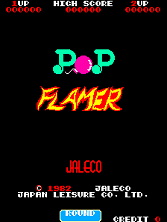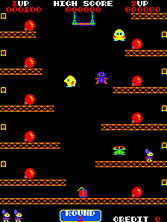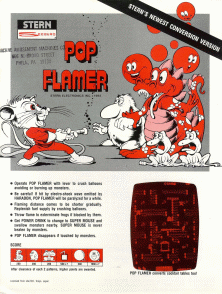 Search the following for Pop Flamer
This game page was created 8/3/1998 12:00:00 AM and last updated 6/26/2000 6:38:59 PM