Ads were removed from the site on 2021-10-17. Updates to the site have commenced after a long hiatus. More to come.
Road Runner
(ロードランナー)
Released in 1985
Developer: Atari
Manufacturer: Atari
Distributor: Atari





(1 total votes)

Game Summary
Keep the Road Runner from getting caught by Wile E. Coyote.
Hardware Info
Controls: 1 Joystick / Button(s)
Horizontal-mounted Raster monitor
336 x 240 Resolution
Colors: 1024 Color
Additional Hardware Info (from Mame)
MC68010 cpu @ 7 Mhz
M6502 cpu @ 1 Mhz
YM-2151 audio @ 3 Mhz
Pokey audio @ 1 Mhz
TMS5520 audio
Hardware Platform
Atari System 1
Mame ROMs
roadrunn, Road Runner
Game Details
With Wile E. Coyote on your tail, you have to play in traffic and jump across desert scenery. Sometimes you can eat bird seed and collect objects for bonus points.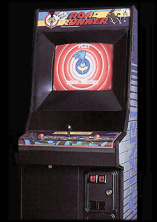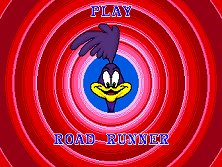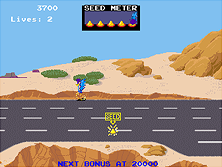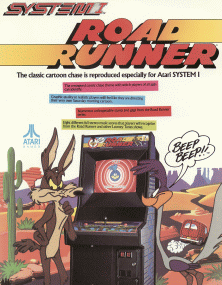 Search the following for Road Runner
This game page was created 8/3/1998 12:00:00 AM and last updated 6/26/2000 8:51:00 PM