Ads were removed from the site on 2021-10-17. Updates to the site have commenced after a long hiatus. More to come.
Robot Bowl
(ロボットボール)
Released in 1977
Developer: Exidy
Manufacturer: Exidy
Distributor: Exidy

(0 total votes)

Game Summary
Early black and white bowling game.
Hardware Info
Controls: Buttons
Horizontal-mounted Raster monitor
248 x 256 Resolution
Colors: 2 B/W
Additional Hardware Info (from Mame)
M6502 cpu
DAC audio
Hardware Platform
Exidy Universal Game Board V1
Mame ROMs
robotbwl, Robot Bowl
Game Details
Simple, two-player bowling game that features a stick man running toward the alley at the beginning of each frame. You control the placement of the bowler and then release the ball. The game scores automatically.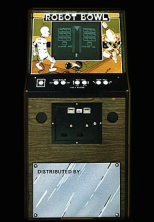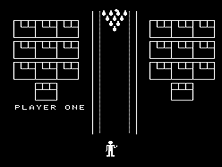 Search the following for Robot Bowl
This game page was created 8/3/1998 12:00:00 AM and last updated 12/13/2021 6:38:28 AM