Ads were removed from the site on 2021-10-17. Updates to the site have commenced after a long hiatus. More to come.
Rygar
(アルゴスの戦士)
Released in 1986
Developer: Tecmo
Manufacturer: Tecmo
Distributor: Tecmo






(7 total votes)

Game Summary
You play the Legendary Warrior "Rygar" in the side scrolling platform game. The aim is to make it though 27 levels picking up power ups and bonuses along the way.
Hardware Info
Controls: 1 Joystick / Button(s)
Horizontal-mounted Raster monitor
256 x 224 Resolution
Colors: 1024 Color
Additional Hardware Info (from Mame)
Z80 cpu @ 7 Mhz
Z80 cpu @ 4 Mhz
YM-3812 audio @ 4 Mhz
ADPCM audio
Hardware Platform
Nintendo Playchoice 10
Mame ROMs
rygar, Rygar (US set 1)
rygar2, Rygar (US set 2)
rygarj, Argus no Senshi (Japan)
Game Details
You'd better have plenty of extra men on the last level as the game does not allow you to continue if you run out.
You'll know that you have an original Rygar board if the word Player2 is spelled "PLAYRE2" in the upper right hand corner of the screen. The typo was corrected in a later release.
Trivia: Japanese version "Legendary Warrior" is pronounced "Arugosu no Senshi" which means "Warrior of Aruga"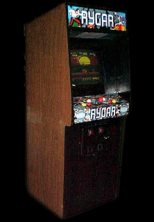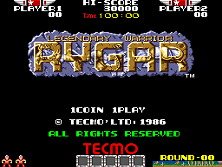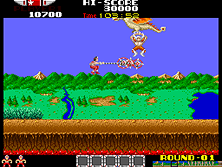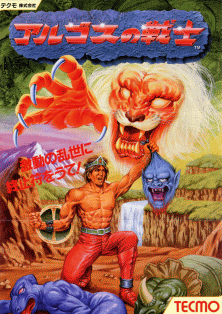 Search the following for Rygar
This game page was created 8/3/1998 12:00:00 AM and last updated 12/13/2021 6:51:18 AM