Ads were removed from the site on 2021-10-17. Updates to the site have commenced after a long hiatus. More to come.
Splat
Released in 1982
Developer: Williams
Manufacturer: Williams
Distributor: Williams

(0 total votes)
Game Summary
Like hard-to-head Robotron 2084, with food.
Additional Hardware Info (from Mame)
M6809 cpu @ 1 Mhz
M6808 cpu
DAC audio
Mame ROMs
splat, Splat!
Game Details
Two player 4-joystick food fight challenge. Two player or player vs. game. According to
Mark Waddell
, only one is known to exist, as a prototype, and he has it. He claims he will sell if the right $$$$$$.
Could someone verify this?
Like Atari's Food Fight, this game was supposedly inspired by the food fighting in National Lampoon's Animal House.
Published for PC, PlayStation (USA) by Midway in Arcade's Greatest Hits: Midway Collection 2.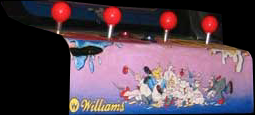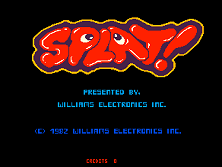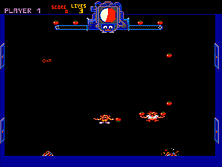 Search the following for Splat
This game page was created 8/3/1998 12:00:00 AM and last updated 11/4/1999 1:16:12 PM