Ads were removed from the site on 2021-10-17. Updates to the site have commenced after a long hiatus. More to come.
Stratovox
Released in 1980
Developer: Taito
Manufacturer: Taito
Distributor: Taito




(1 total votes)

Game Summary
A Galaxian / Space Invaders - like game. Possibly the first game with voice synthesis.
Hardware Info
Controls: 1 Joystick / Button(s)
Vertical-mounted Raster monitor
256 x 256 Resolution
Colors: 8 Color
Additional Hardware Info (from Mame)
Z80 cpu @ 2 Mhz
Z80 cpu @ 2 Mhz
AY-8910 audio @ 1 Mhz
DAC audio
* Samples audio
* Information was extracted from Mame, so "Samples audio" may indicate the game has analog sound hardware.
Hardware Platform
Stratovox
Mame ROMs
stratvox, Stratovox
speakres, Speak & Rescue
stratvxb, Stratovox (bootleg)
Game Details
Ships swoop down, al la Galaxian, and try to kidnap astronauts on the left side of the screen. Possibly the first game to feature voice systhesis which consisted of phrases like, "Got me," "Very good," and the ever popular, "we'll be back."
Hardware very similar to Route 16.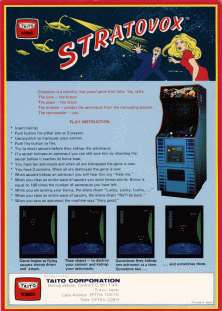 Search the following for Stratovox
This game page was created 8/3/1998 12:00:00 AM and last updated 6/27/2000 4:53:38 PM