Ads were removed from the site on 2021-10-17. Updates to the site have commenced after a long hiatus. More to come.
Strider
(ストライダー飛竜)
Released in 1989
Developer: Capcom
Manufacturer: Capcom
Distributor: Capcom






(1 total votes)

Game Summary
Side-scrolling hack and slash.
Hardware Info
Controls: 1 Joystick / Button(s)
Horizontal-mounted Raster monitor
384 x 224 Resolution
Colors: 2048 Color
Additional Hardware Info (from Mame)
68000 cpu @ 10 Mhz
Z80 cpu @ 4 Mhz
YM-2151 audio @ 3 Mhz
OKI6295 audio
Hardware Platform
CPS
Mame ROMs
strider, Strider (US)
striderj, Strider Hiryu (Japan, set 1)
stridrja, Strider Hiryu (Japan, set 2)
Game Details
Hack and slash action mixed with platforming and great graphics made this a big hit.
The title was ported to Genesis and NES. There was also a sequal (Strider 2) only released for the Genesis that was made by US Gold. There is also a new game tenitivly titled Strider 2 being made for the arcade by Capcom on Segas Dreamcast based Naomi arcade hardware.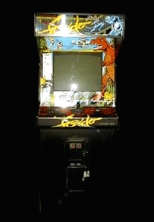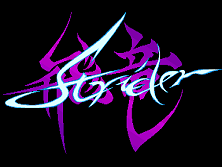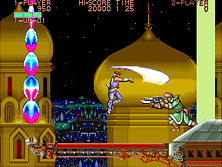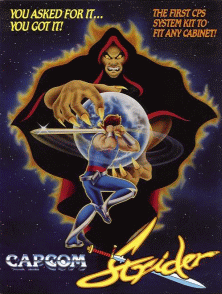 Search the following for Strider
This game page was created 8/3/1998 12:00:00 AM and last updated 12/13/2021 7:06:25 AM