Ads were removed from the site on 2021-10-17. Updates to the site have commenced after a long hiatus. More to come.
Tower of Druaga, The
Released in 1984
Developer: Namco
Manufacturer: Namco
Distributor: Namco

(0 total votes)
Game Summary
A four-way scrolling maze simple RPG-style game.
Additional Hardware Info (from Mame)
M6809 cpu @ 1 Mhz
M6809 cpu @ 1 Mhz
Namco audio
Mame ROMs
todruaga, Tower of Druaga (set 1)
todruagb, Tower of Druaga (set 2)
Game Details
Guide brave knight through various mazes of the Tower of Druagua. Search for key(s) to open door(s) to the next maze. Use your sword to kill various enemies.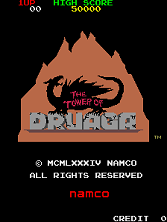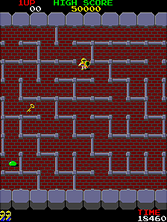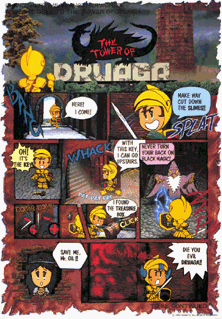 Search the following for Tower of Druaga, The
This game page was created 8/3/1998 12:00:00 AM and last updated 1/21/2000 11:26:43 PM