Ads were removed from the site on 2021-10-17. Updates to the site have commenced after a long hiatus. More to come.
Turtles
(タートルズ)
Released in 1989
Developer: Konami
Manufacturer: Konami
Distributor: Konami

(0 total votes)

Game Summary
Teenage Mutant ninja Turtles beat 'em up to save April the unlucky news reporter who will insist on being kidnapped by Shredder and the foot clan.
Hardware Info
Controls: 1 Joystick / Button(s)
Vertical-mounted Raster monitor
224 x 256 Resolution
Colors: 32 Color
Additional Hardware Info (from Mame)
Z80 cpu @ 3 Mhz
Z80 cpu @ 1 Mhz
AY-8910 audio @ 1 Mhz
AY-8910 audio @ 1 Mhz
Hardware Platform
Konami Scramble hardware
Mame ROMs
turtles, Turtles
600, 600
turpin, Turpin
Game Details
Good fun beat 'em up, kill them foot soldiers and battle yer way through to the technodrome to meet the evil Krang.. Originally a 4 player game, there are ROM conversions for 2 players etc..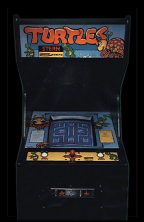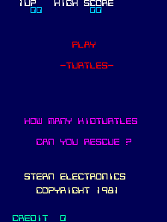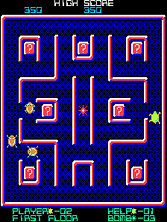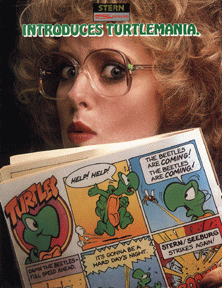 Search the following for Turtles
This game page was created 8/3/1998 12:00:00 AM and last updated 6/28/2000 10:10:49 AM