Ads were removed from the site on 2021-10-17. Updates to the site have commenced after a long hiatus. More to come.
UN Squadron
Released in 1990
Developer: Capcom
Manufacturer: Capcom
Distributor: Capcom






(1 total votes)

Game Summary
Fight for the UN by choosing three jets. An F-16, A-10 and F14(?) Many optional weapons throughout.
Hardware Info
Controls: 1 Joystick / Button(s)
Horizontal-mounted Raster monitor
384 x 224 Resolution
Colors: 2048 Color
Additional Hardware Info (from Mame)
68000 cpu @ 10 Mhz
Z80 cpu @ 4 Mhz
YM-2151 audio @ 3 Mhz
OKI6295 audio
Hardware Platform
Capcom System 1
Mame ROMs
unsquad, UN Squadron (US)
area88, Area 88 (Japan)
Game Details
Side-scroller airline shooter. Drop bombs, shoot planes/helicopters/whatever.
Also known as Area 88 in Japan, based on the famous manga that have been published by Viz Communications in the US. One of the first known manga-based video games that has been ported to the US.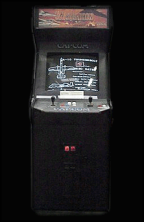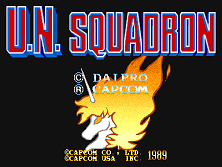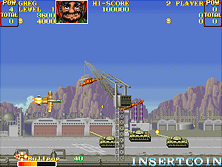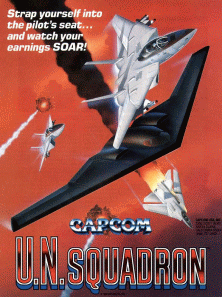 Search the following for UN Squadron
This game page was created 8/3/1998 12:00:00 AM and last updated 6/28/2000 10:27:33 AM