Ads were removed from the site on 2021-10-17. Updates to the site have commenced after a long hiatus. More to come.
Vulgus
(バルガス)
Released in 1984
Developer: Capcom
Manufacturer: Capcom
Distributor: Capcom

(0 total votes)
Game Summary
Shoot-em up with a spaceship against waves of grouped enemies, no powerups but shoot+torpedo-like bullet as alternate
Hardware Info
Controls: 1 Joystick / Button(s)
Vertical-mounted Raster monitor
224 x 256 Resolution
Colors: 256 Color
Additional Hardware Info (from Mame)
Z80 cpu @ 4 Mhz
Z80 cpu @ 3 Mhz
AY-8910 audio @ 1 Mhz
AY-8910 audio @ 1 Mhz
Hardware Platform
Capcom Z80 Based
Mame ROMs
vulgus, Vulgus (set 1)
vulgus2, Vulgus (set 2)
vulgusj, Vulgus (Japan?)
Game Details
Typical Capcom game of the time, good graphics and great playability. Average sound, but not disturbing.
Storyline? Destroy everything at first sight, forever. Waves of enemies came at you with the occasional variant of a bigger ship and the bonus wave.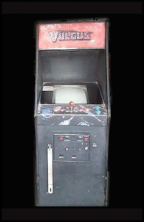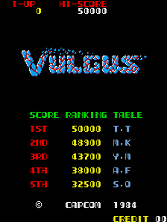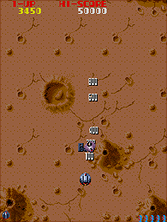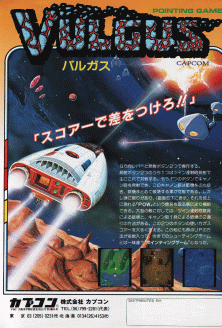 Search the following for Vulgus
This game page was created 8/3/1998 12:00:00 AM and last updated 12/13/2021 6:38:28 AM