Ads were removed from the site on 2021-10-17. Updates to the site have commenced after a long hiatus. More to come.
Simpsons, The
(シンプソンズ)
Released in 1991
Developer: Konami
Manufacturer: Konami
Distributor: Konami






(1 total votes)

Game Summary
Join the family in rescuing Maggie from the evil Smithers and Burns.
Additional Hardware Info (from Mame)
KONAMI cpu @ 3 Mhz
Z80 cpu @ 3 Mhz
YM-2151 audio @ 3 Mhz
053260 audio @ 3 Mhz
Mame ROMs
simpsons, The Simpsons (4 Players)
simps2pj, The Simpsons (2 Players Japan)
simpsn2p, The Simpsons (2 Players)
Game Details
Good cartoon graphics, excellent music, great sampled speech. Gameplay is kinda average, much like TMNT. The game has a lot more in it than you think, you have to look around at what's going on in the backgrounds to get the jokes and see the hidden features :) 4 player game, also available in a 2 player ROM version with character selection screen.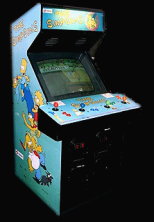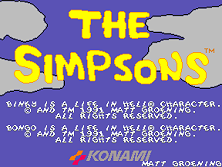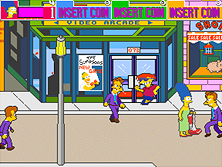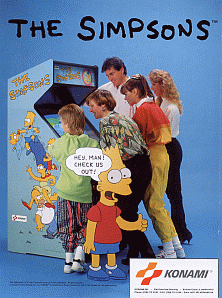 Search the following for Simpsons, The
This game page was created 8/3/1998 12:00:00 AM and last updated 10/25/2021 3:58:50 AM