Ads were removed from the site on 2021-10-17. Updates to the site have commenced after a long hiatus. More to come.
Warrior
(ウォーリア)
Released in 1978
Developer: Cinematronics
Manufacturer: Cinematronics
Distributor: Cinematronics





(3 total votes)
Game Summary
Two-player sword-fighting game with vector graphics.
Additional Hardware Info (from Mame)
CCPU cpu @ 5 Mhz
* Samples audio
* Information was extracted from Mame, so "Samples audio" may indicate the game has analog sound hardware.
Mame ROMs
warrior, Warrior
Game Details
This was the last game the Cinematronics spin-off company Vectorbeam made.
A two-player only game, Warrior featured a top-down view of two warriors with swords using vector graphics. The play field was a detailed, brightly colored overlay.
Each player used a joystick to move both the warrior. The game was time-limited, and the warrior with the most kills at the end was the winner. A kill was scored with either a series of good sword hits to the opponent, or by an opponent falling into one of the two pits.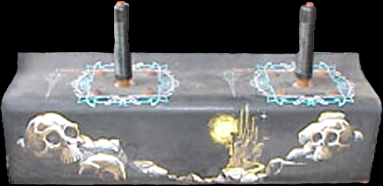 Search the following for Warrior
This game page was created 8/3/1998 12:00:00 AM and last updated 2/1/2003 9:36:00 PM