Ads were removed from the site on 2021-10-17. Updates to the site have commenced after a long hiatus. More to come.
No Man's Land
Released in 1980
Developer: Gottlieb / Mylstar / Premier
Manufacturer: Gottlieb / Mylstar / Premier
Distributor: Gottlieb / Mylstar / Premier

(0 total votes)

Game Summary
And everbody was Tank pool fighting.
Hardware Info
Controls: 1 Joystick
Vertical-mounted Raster monitor
192 x 256 Resolution
Colors: 16 Color
Additional Hardware Info (from Mame)
Z80 cpu @ 3 Mhz
DAC audio
Mame ROMs
nomnlnd, No Man's Land
nomnlndg, No Man's Land (Gottlieb)
Game Details
You control a tank. You must destroy the enemy tanks before they get you. Sneak into the enemy's motor pool and destroy unmanned tanks for extra points! Live tanks that are shot are replaced by ones in the motor pool. Be careful, or you'll find yourself surrounded! As levels are cleared, enemy gets more, faster moving tanks.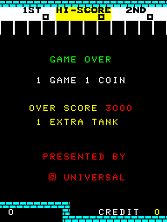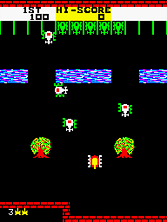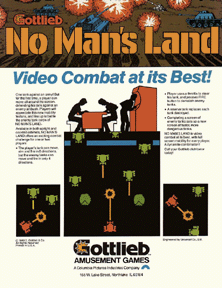 Search the following for No Man's Land
This game page was created 8/3/1998 12:00:00 AM and last updated 7/26/1999 12:13:09 AM