Ads were removed from the site on 2021-10-17. Updates to the site have commenced after a long hiatus. More to come.
Safari
(サファリ)
Released in 1977
Developer: Sega / Gremlin
Manufacturer: Sega / Gremlin
Distributor: Sega / Gremlin

(0 total votes)

Game Summary
Shoot the animals as they approach.
Additional Hardware Info (from Mame)
Z80 cpu @ 1 Mhz
* Samples audio
* Information was extracted from Mame, so "Samples audio" may indicate the game has analog sound hardware.
Hardware Platform
VIC dual game board
Mame ROMs
safari, Safari
Game Details
One-player, black and white shooter in which you control a game hunter. Move the hunter up and down and fire the rifle at the approaching wildlife. There are different point values for killing snakes, lions, boars, and vultures which vary according to the animal's speed. As the levels progress, the animals get faster.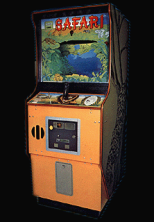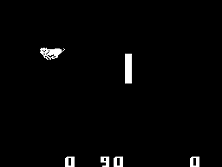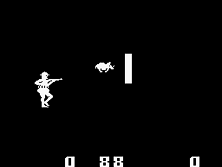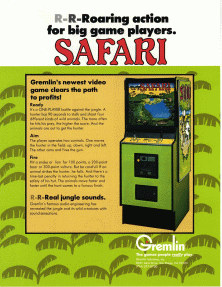 Search the following for Safari
This game page was created 8/3/1998 12:00:00 AM and last updated 1/27/2003 8:05:45 PM