Head On 2
(ヘッドオン2)
Released in 1979
Developer: Sega / Gremlin
Manufacturer: Sega / Gremlin
Distributor: Sega / Gremlin

(0 total votes)

Game Summary
Pick up all the dots while avoiding head-on collisions with other cars. Sometimes packaged in a multigame with Invinco.
Additional Hardware Info (from Mame)
Z80 cpu @ 1 Mhz
* Samples audio
* Information was extracted from Mame, so "Samples audio" may indicate the game has analog sound hardware.
Hardware Platform
VIC dual game board
Mame ROMs
headon2, Head On 2
Game Details
Steer a car around a maze collecting dots and avoiding head-on collisions with the computer cars. There are a few points in the maze where you can change lanes.
Once a level is cleared of all the dots, you advance to other levels with either more cars or faster cars. For up to two alternating players.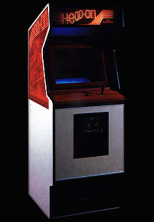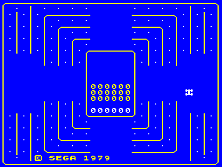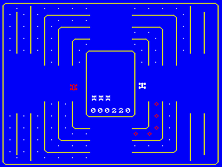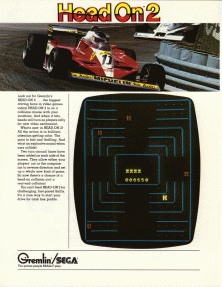 Search the following for Head On 2
This game page was created 8/3/98 12:00:00 AM and last updated 2/23/03 8:34:27 AM