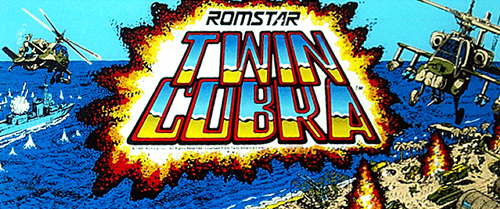 Game Summary
Single or dual player helicopter flying/bombing game.
Hardware Info
Controls: 1 Joystick / Button(s)
Vertical-mounted Raster monitor
240 x 320 Resolution
Colors: 1792 Color
Additional Hardware Info (from Mame)
68000 cpu @ 7 Mhz
Z80 cpu @ 3 Mhz
320C10 cpu @ 3 Mhz
YM-3812 audio @ 3 Mhz
Hardware Platform
Toaplan Twin Cobra
Mame ROMs
twincobr, Twin Cobra (World)
ktiger, Kyukyoku Tiger (Japan)
twincobu, Twin Cobra (US)
Game Details
Various terrains (land and sea) are overflown. Targets include battle stationary gun batteries, tanks and destroyers as well as enemy helicopters. Capturing power-up buttons increase helicopter cannon power. Cannon morphs from foward only, to forward and 45 degrees left and right to, all four points of the compass. Final confrontation is with a moving tank protected by superior armour (multiple direct hits required).