Ads were removed from the site on 2021-10-17. Updates to the site have commenced after a long hiatus. More to come.
Raiden
(雷電)
Released in 1988
Developer: Seibu / Fabtek
Manufacturer: Seibu / Fabtek
Distributor: Seibu / Fabtek






(2 total votes)

Game Summary
A classic shoot 'em up.
Hardware Info
Controls: 1 Joystick / Button(s)
Vertical-mounted Raster monitor
224 x 256 Resolution
Colors: 2048 Color
Additional Hardware Info (from Mame)
V30 cpu @ 14 Mhz
V30 cpu @ 14 Mhz
Z80 cpu @ 4 Mhz
YM-3812 audio @ 3 Mhz
OKI6295 audio
Mame ROMs
raiden, Raiden
Game Details
A decent shoot 'em up with loads of big weapons and loads of different enemies.. Not a linear vertical scrolly, but left and right scrolling too. Nice music and SFX, it takes a while to get into the game and figure out which powerups help you. Some of the enemies require certain strategies for elimination.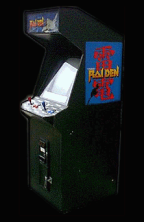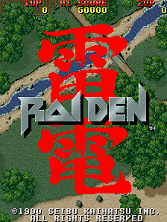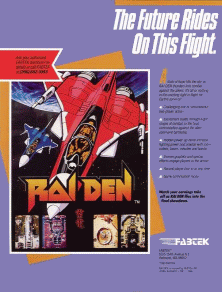 Search the following for Raiden
This game page was created 8/3/1998 12:00:00 AM and last updated 8/3/1998 12:00:00 AM