Ads were removed from the site on 2021-10-17. Updates to the site have commenced after a long hiatus. More to come.
NBA Jam
Released in 1993
Developer: Midway
Manufacturer: Midway
Distributor: Midway






(1 total votes)

Game Summary
Two on two basketbrawl using real NBA teams and players.
Hardware Info
Controls: 1 Joystick / Button(s)
Horizontal-mounted Raster monitor
399 x 256 Resolution
Colors: 65536 Color
Additional Hardware Info (from Mame)
TMS34010 cpu @ 6 Mhz
M6809 cpu @ 4 Mhz
DAC audio
YM-2151 audio @ 3 Mhz
OKI6295 audio
Hardware Platform
Midway T Unit
Mame ROMs
nbajam, NBA Jam
Game Details
Choose from the real NBA teams and NBA players (as of 1993) and go two-on-two against up to 3 other human players or computer-controlled players in a parody of NBA basketball. Dunks (jams) are the rule not the exception. Make three shots in a row without letting anyone else score and you'll be "on fire" - the net will burn when you make a shot and you can make almsot any shot. The fire goes out when the other team scores. Many secrets and powerups in the game and can be activated by doping button/joystick combos at the "Tonight's Matchup" screen. These include Powerup Defense, Big Head mode, and the now-famous Tank Game. Buttons are Shoot/Block, Pass/Steal, and Turbo.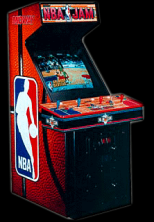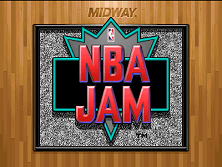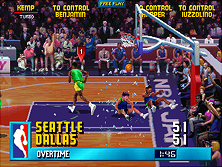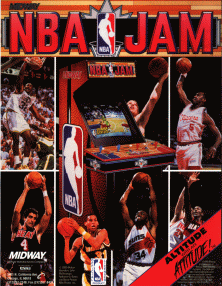 Search the following for NBA Jam
This game page was created 8/3/1998 12:00:00 AM and last updated 12/13/2021 7:16:00 AM