Ads were removed from the site on 2021-10-17. Updates to the site have commenced after a long hiatus. More to come.
Super Space Invaders '91
Released in 1990
Developer: Taito
Manufacturer: Taito
Distributor: Taito

(0 total votes)
Game Summary
Classic gameplay but with souped up graphics.
Hardware Info
Controls: 1 Joystick / Button(s)
Vertical-mounted Raster monitor
224 x 320 Resolution
Colors: 4096 Color
Additional Hardware Info (from Mame)
68000 cpu @ 12 Mhz
Z80 cpu @ 4 Mhz
YM-2610 audio @ 8 Mhz
Hardware Platform
Taito F2 System
Mame ROMs
ssi, Super Space Invaders '91 (World)
majest12, Majestic Twelve - The Space Invaders Part IV (Japan)
Game Details
Same old story, the aliens are coming, either hide down a hole, or trundle backwards and forwards in a tank trying to shoot the dumb aliens...
This game adds a twist on the gameplay by moving the aliens in different formations, each have different tactics etc. There are lots of nice backdrops and sounds, and your ship can usually stand more than one hit before you die.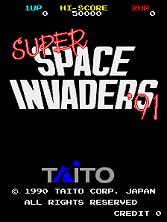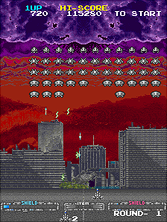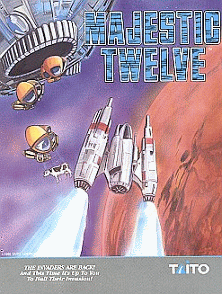 Search the following for Super Space Invaders '91
This game page was created 8/3/1998 12:00:00 AM and last updated 3/26/2002 8:55:17 PM