Ads were removed from the site on 2021-10-17. Updates to the site have commenced after a long hiatus. More to come.
Arm Wrestling
(アームレスリング)
Released in 1985
Developer: Nintendo
Manufacturer: Nintendo
Distributor: Nintendo






(4 total votes)

Game Summary
Hero arm-wrestles a series of increasingly strong and increasingly odd characters, including a girl and her robot.
Additional Hardware Info (from Mame)
Z80 cpu @ 4 Mhz
N2A03 cpu @ 1 Mhz
NES audio @ 21 Mhz
DAC audio
VLM5030 audio @ 3 Mhz
Mame ROMs
armwrest, Arm Wrestling
Game Details
Arm Wrestling used TWO monitors, much the same way that Nintendo's Punch Out did. At one point, a villian would appear in the top monitor, and try to throw down a money bag at you in the lower monitor. You can pull the joystick away from the console for special actions.
"Bald Bull" makes an appearance as a masked character (you pull on the joystick to pull his mask off at the end of the match).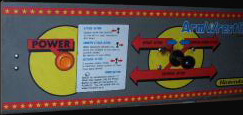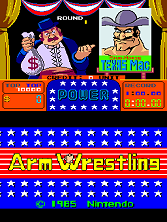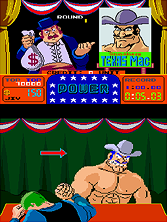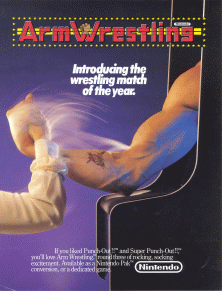 Search the following for Arm Wrestling
This game page was created 8/3/1998 12:00:00 AM and last updated 12/3/1999 7:14:25 PM