Ads were removed from the site on 2021-10-17. Updates to the site have commenced after a long hiatus. More to come.
Formation Armed F
(フォーメーション アームドF)
Released in 1988
Developer: Nichibutsu
Manufacturer: Nichibutsu
Distributor: Nichibutsu

(0 total votes)
Game Summary
Vertically scrolling shoot 'em up - control the Vowger spaceship - shoots enemies, collect power-ups - defeat bosses to advance levels - Vowger can be changed to shoot in a multitude of formations and directions
Additional Hardware Info (from Mame)
68000 cpu @ 8 Mhz
Z80 cpu @ 3 Mhz
YM-3812 audio @ 4 Mhz
DAC audio
DAC audio
Mame ROMs
armedf, Armed Formation
Game Details
In the far future a mysterious point in the galaxy (Point X1Y7Z94) is accidentally discovered, suddenly opening up and engulfing the stations nearby.
The Milky Way Federation sends the latest ship in their fleet, the Vowger RC30, to investigate the area and eliminate the forces responsible for the events.
Nichibutsu, Takanori Tanaka and team.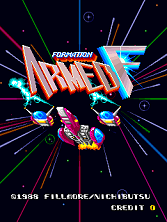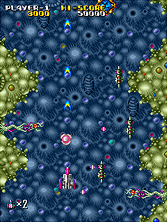 Search the following for Formation Armed F
This game page was created 8/3/1998 12:00:00 AM and last updated 1/23/2021 10:21:44 AM