Ads were removed from the site on 2021-10-17. Updates to the site have commenced after a long hiatus. More to come.
Battlantis
(バトランティス)
Released in 1987
Developer: Konami
Manufacturer: Konami
Distributor: Konami

(0 total votes)
Game Summary
Defend your castle from monster attacks.
Hardware Info
Controls: 1 Joystick / Button(s)
Vertical-mounted Raster monitor
224 x 256 Resolution
Colors: 128 Color
Additional Hardware Info (from Mame)
M6309 cpu @ 3 Mhz
Z80 cpu @ 3 Mhz
YM-3812 audio @ 3 Mhz
YM-3812 audio @ 3 Mhz
Hardware Platform
Konami Blades Of Steel Based
Mame ROMs
battlnts, Battlantis
battlntj, Battlantis (Japan)
Game Details
In this game you play the role of an old warrior defending his castle against all kind of monsters. You are standing on top of a castle wall and you must shoot down all of the monsters attacking your castle. The attacking-waves very much assembles to the way the aliens behave in the game Space Invaders. There are also levels that includes big bosses.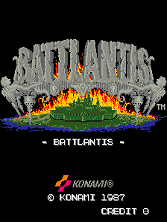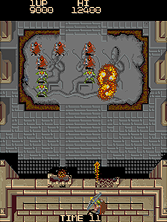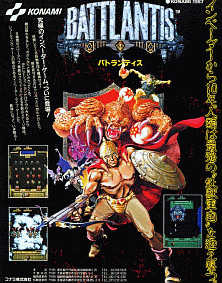 Search the following for Battlantis
This game page was created 8/3/1998 12:00:00 AM and last updated 12/13/2021 7:08:31 AM