Cabal
(カベール)
Released in 1989
Developer: Fabtek
Manufacturer: Fabtek
Distributor: Fabtek

(0 total votes)

Game Summary
Third person (behind player). Use a trackball to control a soldier and his aiming crosshair, and conduct attacks on various enemies. This game has quite a few "pseudo-hidden" power-ups and suprises.
Hardware Info
Controls: Trakball / Button(s)
Horizontal-mounted Raster monitor
256 x 224 Resolution
Colors: 1024 Color
Additional Hardware Info (from Mame)
68000 cpu @ 12 Mhz
Z80 cpu @ 4 Mhz
YM-2151 audio @ 3 Mhz
ADPCM audio
ADPCM audio
Mame ROMs
cabalbl, Cabal (bootleg)
Game Details
Rapidly move the trackball to the down-left or down-right to make your player roll and evade enemy fire.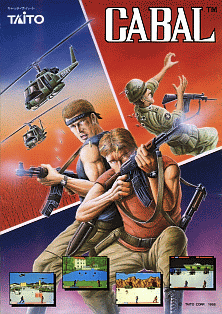 Search the following for Cabal
This game page was created 8/3/98 12:00:00 AM and last updated 3/5/99 10:29:28 AM